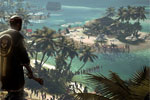 spot cool stuff MEDIA
What's the most engaging, memorable and visually stunning video game trailer ever made? It might be the one for Dead Island. There's something about its music, its slow motion scenes and its unusual mix of forwards and backwards action that plants itself hauntingly in one's mind.
The trailer also depicts graphic violence and disturbing images. It's definitely not for kids and could be overly harrowing even for adults who have kids . . . or who mildly like kids . . . or who hope to one day go on a peaceful vacation to a tropical isle. With that warning, you can watch the trailer video below.
So does having a superlative trailer mean that Dead Island will be a superlative video game?
---