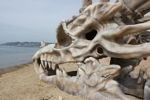 spot cool stuff MEDIA
Imagine that it's a Monday morning in July. You are going out for a walk along the "Jurassic Coast" — a section of shoreline stretching from East Devon to East Dorset in southern England that's famous for its 200+ million years of geological and paleontological history. Maybe you are looking down at the sand for one of the small fossils beach goers often find there. Then you look up and see this:
A giant dragon skull!
---