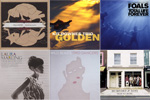 spot cool stuff MEDIA
Looking for the next hit international music performer? The nominees for the Mercury Prize is an excellent place to look. That award goes the best new album from a British or Irish artist.
Recently we took a look at the half of the albums up for the Mercury Prize. Here's an overview of the other half. As before, clic, on the corresponding album cover to listen to song samples.
---