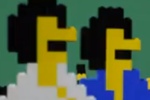 spot cool stuff MEDIA
Were you to download one song from Rymdreglage and then another from Ninja Moped you would have two songs from the same band. Why the two names? To confuse their opponents.
And that's not the only strange thing about the pairing of Swedish high school friends Daniel Larsson and Tomas Redigh.
Under either name, Larsson and Redgh produce Bitpop, an obscure but growing sub-genre of electronic music that is characterized by the primary melody played by an 8-bit electrical device, like an old Commodore 64 computer or Atari gaming console.
---