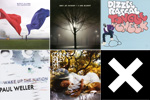 spot cool stuff MEDIA
Looking for the next hit international music performer? There's no certain way to know, of course, but as good a place to look as any is the Mercury Prize. That award goes the best new album from a British or Irish artist.
Here's the first half of our look at the 12 albums nominated for the Mercury Prize. Click on the corresponding album cover to listen to song samples.
---