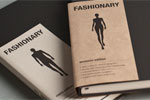 spot cool stuff MEDIA
Fashionary describes their hard-covered, well constructed tomes as "sketchbooks tailor-made for fashion designers." It is a rare case of a manufacturer underselling their own product.
The Fashionary book does indeed provide a fantastic forum for clothes creativity to flow. Each book contains 130 pages of templates: silhouette outlines of a male or female figure (depending on what Fashionary you choose) upon which aspiring designers can sketch out fashion ideas. The silhouettes are faint enough that the templates can be used as blank pages. And if you run out of templates, or want different ones to work with, more are available on the Fashionary website for free.
---