There's something inherently cool about taking a structure conceived for an animated movie or TV show and building it for real.
Spot Cool Stuff regulars may remember our piece on the the real life Simpsons house constructed in Nevada. Building an accurate rendition of that was difficult enough—and it was a regular suburban dwelling. Imagine the challenge of building the house featured in the Pixar hit movie Up. That house was attached to balloons and was able to fly!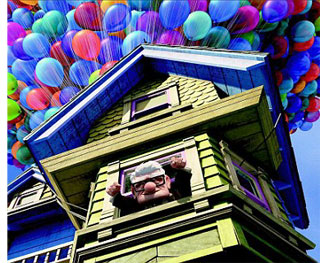 Yet that's exactly the challenge National Geographic took on for an episode of their new TV series How Hard Can It Be?.
The team of scientists, engineers and balloon pilots assigned the task of building a real life Up house discovered that the answer to that question—how hard can it be?—turned out to be: pretty darn hard.
Pretty darn hard. But not impossible.
The key to making a flying balloon house work is cutting down on the building's weight. The real life Up house didn't include any furniture, large appliances, indoor plumbing or other heavy items found in a typical house. National Geographic's crew was also able to build small—the footprint of their structure was a relatively tiny 16 by 16 feet (5 x 5 meters). Nevertheless, that they managed to build any real life version of the house is incredibly impressive, not only because it resembled the one from Up but because it was really able to fly!
A crew of living, breathing, non-animated humans piloted the house to an altitude of 10,000 feet (3,050m) on their hour long test flight outside of Los Angeles. (Is "piloted" even the correct verb to use for the act of flying a house?). The house, together with the crew, weighed a bit less than 3,000 lbs (1,360kg) or about as much as a Volkswagen Jetta automobile. It took 300 weather balloons to lift that load. Initially that didn't sound like a lot of balloons to us but it turns out to be the largest cluster ever used for a flight.
In the movie Up—an excellent and at times heart-wrenching tale, not incidentally—the protagonist flew in his house all the way to the jungles of South America. Assuming the winds were blowing in the right direction, would that be possible in real life? Catch National Geographic's How Hard Can It Be? series to find out; it debuts in the United States in late 2011.
In the meantime, you can learn more about the Up house in the two videos after the photos, below.
published: 8 Mar 2011

PURCHASE UP | NAT GEO STORE | JOIN US ON TWITTER / FACEBOOK |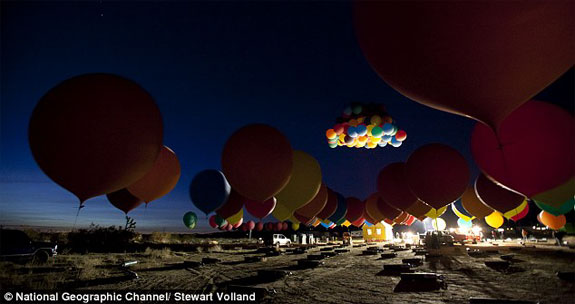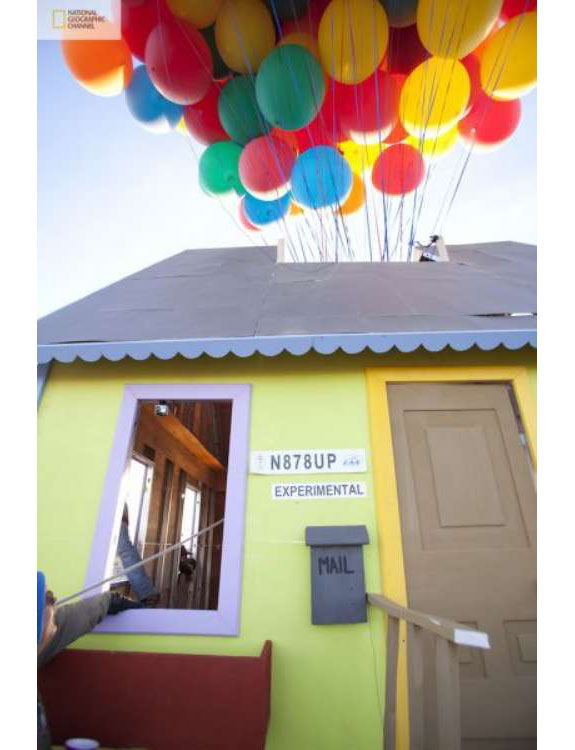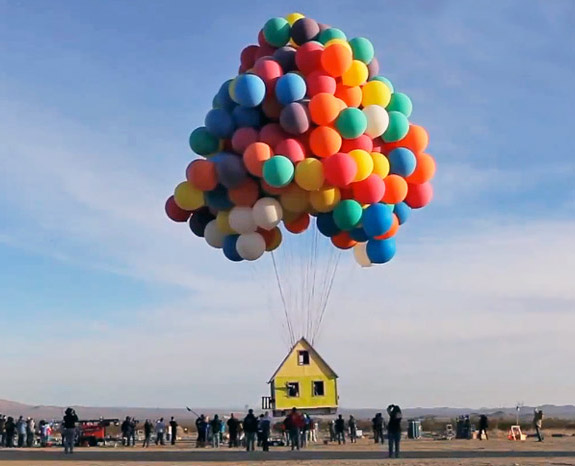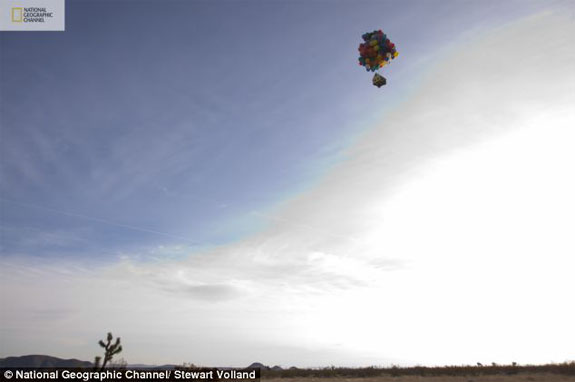 Related posts:
Where to Find Duff Beer in Real Life
The Best Inexpensive HDTV Sets
Real Life Places That Look Like Dr. Seuss Illustrations
8 Highly Unusual Items You Can Buy on Amazon.com ← really!
PURCHASE UP | VISIT NAT GEO STORE | JOIN US ON TWITTER / FACEBOOK