Travel is one of the best gifts an adult can bestow upon a child. Unfortunately, as gifts go, travel is expensive. And time consuming. And involves potentially painful car and/or plane trips. Which is why travel-themed games are so great — they can introduce kids to an aspect of travel in as little as 30 minutes, without leaving the house, packing a bag or applying for a passport. Games can help also prepare kids for real-life trips by providing knowledge and building excitement.
With that in mind, here's a review of our three favorite travel-themed great board games. As with all games and toys reviewed on this website, each of these three games are ones that adults can enjoy playing too.





What should you do before entering the home of a person from Mali: A) whistle, B) knock on the door or C) clap twice outside the door?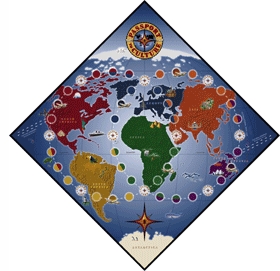 That's one of the many questions posed to players of Passport To Culture. The object of the board game is to fill a passport with stamps by answering multiple choice questions about international culture, geography, language, history and customs. Some of the questions (especially the history ones) are ones based on general knowledge. But the majority tend to involve educated guessing. That makes it fun for adults to play with younger kids — or even on their own sans children.
Four players can typically finish a full game of Passport To Culture in under an hour. We also like how the question cards don't only give you the answer but also some background info too. So it is for our example question, above. Turn the card over and you'll learn:
Clapping twice indicates you have arrived. It is not customary to knock on the door of a Mailian's home when visiting.
Number of players: 2 to 6
Manufacturer's recommended ages: 10 and over (though we think strong readers as young as 7 could enjoy playing too)

Out of the Box
From game manufacturer Out Of The Box comes a series of four map-based strategy games: 10 Days In Europe, 10 Days In Asia, 10 Days in Africa and 10 Days in the USA. Each game plays the same way: Players use transportation and state/country cards to organize a hypothetical 10-day trip. The object is to be the first to make your trip arrangements. As such, the game deals with the geography of travel more than the cultural aspects. It's easy to learn. And great for aspiring travel agents.
Number of players: 2 to 4
Manufacturer's recommended ages: 10 and up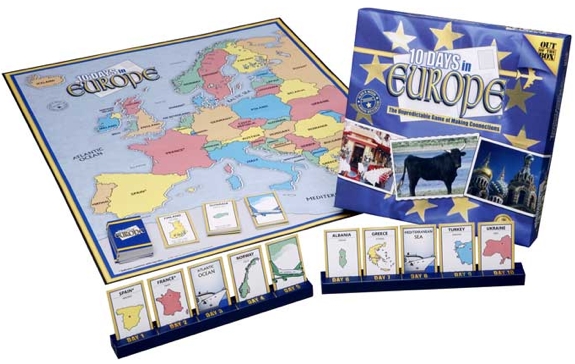 Z Man Games
Spot Cool Stuff writes a travel blog. So how could we not love a game called Travel Blog? Even if it's premise is rather unrealistic:
At the start of each game, a blog called Boundless Project hires each player to travel around either the United States or Europe (your choice). The object is to travel to your writing assignments as cheaply as possible. The player with the most money left over at the end wins. ("As a travel blogger, you won't get rich" the game's instructions warn. Yeah, tell us something we don't know!)
As with the 10 Days In . . . series (reviewed above), Travel Blog is a map based game that's mostly about geography. But there's also a finance/budget aspect that we like. The game is played in euros, which is a bit weird when you are traveling around the U.S. but a good introduction to the currency for non-Europeans. A full game with 3 players takes about 30 minutes.
Travel Blog is by Z Man Games, which makes several other board games that also touch on a travel scene. Check out Cities if you are planning a trip to New York, Paris, London or Berlin
Number of players: 2 to 6
Manufacturer's recommended ages: 8 to 12 years (though we'd put the range at 7 to 14)




published: 6 Dec 2012

JOIN US ON TWITTER / FACEBOOK / PINTREST / GOOGLE+
More From Spot Cool Stuff:
Reviews of 3 Cool, Interactive Board Games
Make Your Own -Opoly Game
Cool Family Travel Ideas (That Kids *and* Parents Will Love)