Spot Cool Stuff has been a parent for a little over five months now. Somewhere between the projectile spit-up, the copious amount of poop and the debilitating lack of sleep we've learned something: A sense of humor is key to survival.
Which is why we appreciate anything that helps us laugh about this condition called parenthood. And the four books we review below certainly do that. If you already have a child, these tomes can provide much needed humor break. They also make for an appreciated baby shower gift or a congratulatory offering to new parents.
Safe Baby Handling Tips
Very few books have ever made Spot Cool Stuff laugh out loud. Safe Baby Handling Tips is one of them.
Simple, yet hysterical, cartoon drawings give dos and don'ts of interacting with babies — the one's below give a good sense of how the whole book goes. As a bonus, there's a "Wheel of Responsibility" on the front cover that mom and dad can use to divide baby chores in roulette fashion.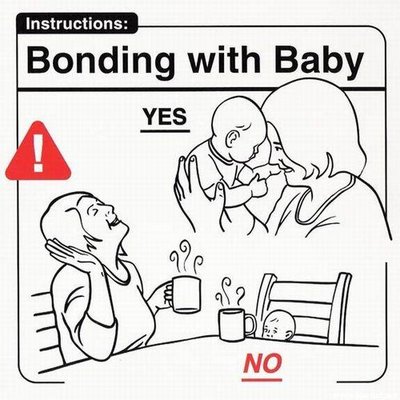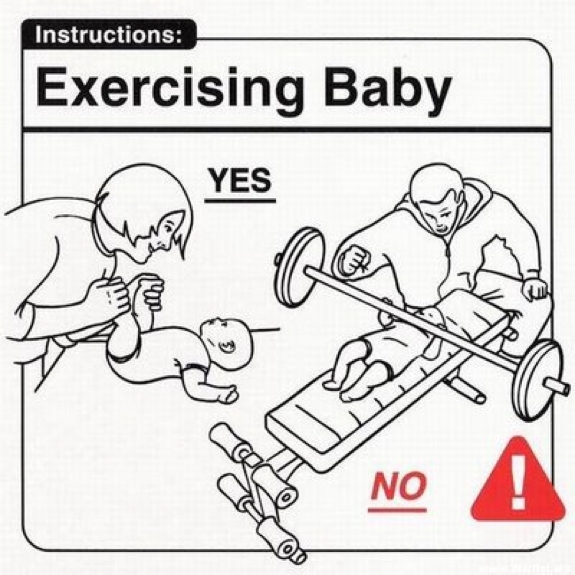 Let's Panic About Babies!
Pregnancy is a strange and bloated time, but more important, it's a time when every single one of your decisions will leave an indelible and unmistakable imprint on your baby forever.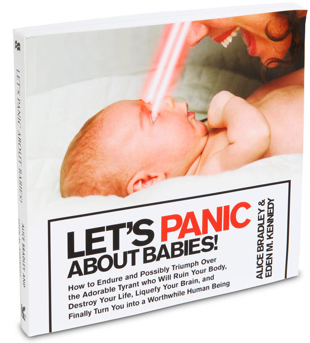 It's funny because it is true.
Unlike all the three other selections in this review, Let's Panic About Babies! is a book an adult can curl up in bed with and read. The mix of practical advice and humorous observations will both delight and scare the hell out of any parents-to-be, making this book a baby shower gift with some attitude.
Go the F**k to Sleep
Warning: Do not actually read this book to your kids!
Go the F**k to Sleep looks like a regular baby book. It has the drawings, the font size and the rhyming prose of a regular baby book. But the language is most certainly not.
This particular book selection is a bit too edgy and, well, crude for Spot Cool Stuff's tastes; we had originally decided not to include it in this post. Then, this morning, we were in a store and saw some people laughing at — and then purchasing — this book. So we decided to post an example page (below) and let you, Dear Reader, decide for yourself.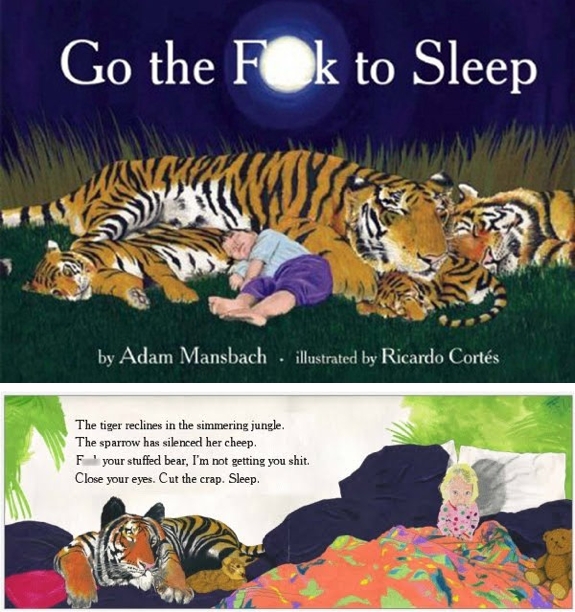 Baby, Mix Me a Drink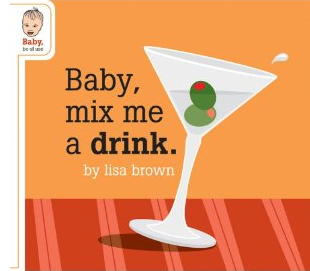 Babies love the contrasting colors and interesting shapes in the Baby, Mix Me a Drink board book. Parents chuckle at the bar tending skills they might be imparting to their little ones.
Because what could be funnier than teaching babies about alcohol. Except maybe teaching them about virtually any other adult subject. Which is why it makes us happy that Baby, Mix Me a Drink is part of the Baby Be Of Use book series.
If you are looking for a book selection with a bit more of an appropriate subject matter, check out Baby Do My Banking or Baby Fix My Car. Of course, if a LESS appropriate subject matter is what you're after, there's always Baby Get Me Some Lovin'.
published: 23 Feb 2013
Related Spot Cool Stuff baby posts
3 Cool Cereal Bowls For Toddlers
The Best Websites For Finding Baby Names
A Review of the 4moms Origami High-Tech Baby Stroller