There's something compelling about the submarine genre of movies: the close quarters, the life-and-death nature of it, the mystery of what's out there in the dark and vast ocean depths. By our unofficial count, there have been roughly 100 submarine-oriented flicks made since World War II. (The exact number depends on which movies you decide to include). Spot Cool Stuff has seen the vast majority of them. Here's ranking of our personal favorite ten best submarine movies:
Note that our list seems to vary from the consensus opinion. To share your list, dive down to our comments section.




#10 The Enemy Below
At the height of World War II an American warship squares off against a German submarine. Watch as dueling captains, Robert Mitchum versus Curt Jürgens, struggle for supremacy. Not surprisingly, the 50+ year old The Enemy Below has an antiquated feel, especially the pacing and special effects, but the superlative plot carries it through. 1957
LEARN MORE, BUY & WATCH ON AMAZON | WATCH VIA VUDU / NETFLIX

# 9 Below
Below is less of a submarine movie and more of a Sixth Sense-like horror-suspence movie that happens to take place underwater. Submarine movie purist may want to navigate clear of this haunted tale. For lovers of ghost stories this flick staring Gary Broadway is a worthy watch. 2002

LEARN MORE, BUY & WATCH ON AMAZON | WATCH VIA VUDU / NETFLIX

# 8 Run Silent – Run Deep
A World War II submarine captain, Clark Gable, is bent on taking revenge against the Japanese sub that sunk his previous ship. And he's determined not to let the safety of his crew or his executive officer (and personal rival) Burt Lancaster get in his way. Run Silent is more of a cautionary tale about the destructive nature of revenge than it is a serious action flick. Still, the close confines of a sub together with the superlative acting from an all-star cast make this psychological tale an entertaining watch. 1958
LEARN MORE, BUY & WATCH ON AMAZON | WATCH VIA VUDU / NETFLIX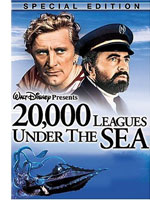 #7 20,000 Leagues Under The Sea
In Disney's first (and some would still consider best) large budget movie, Kirk Douglas ends up on a fantastical submarine captained by an eccentric and reclusive James Mason. The duo experience several harrowing adventures, including battles with enormous creatures of the deep. 20,000 Leagues Under The Sea, both the film and the original Jules Verne's book, have withstood the test of time reasonably well. A few remakes have been attempted over the years, the best of which might be a Nickelodeon cartoon version. Spot Cool Stuff would love to see a modern well-directed, well-special effected version. Are you listening Steven Spielberg? 1954
LEARN MORE, BUY & WATCH ON AMAZON | WATCH VIA VUDU / NETFLIX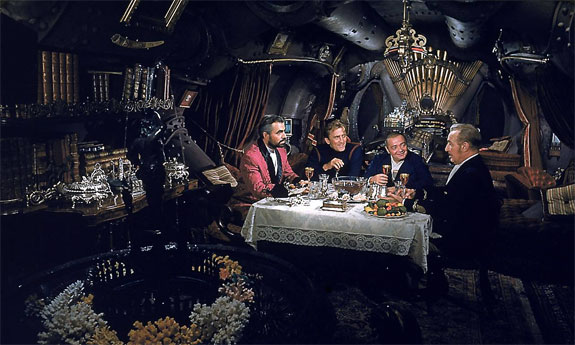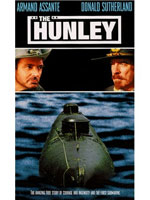 #6 The Hunley
The first submarine to ever sink an enemy warship: The H. L. Hunley in 1864. The Hunley, a made-for-TV movie, stars Armand Assante and Donald Sutherland and depicts the incredible true story of this Confederate submersible and the soldiers who sacrificed to build and operate it—and to keep it secrete from the Union. Sadly, the movie is only available on VHS though several compelling documentaries about the Hunley are available on DVD and Blu-ray, the History Channel's History's Mysteries Raise The Hunley foremost among them. 1999

#5 Das Boot—The Director's Cut
Many a movie critic has declared Das Boot the best sub movie ever. Spot Cool Stuff can not see why (and not for lack of trying, mind you). We understand that real submarine warfare involves a lot of monotony and long bouts of tedium. But that doesn't mean we want to see a movie with that same tedium, which is what Das Boot delivers. For the first 90 minutes of this movie we follow along as almost nothing happens aboard a German u-boat. Literally, even the movie characters spend this time lamenting the lack of action. The pace finally picks up 1 1/2 hours into this 2-DVD disc flick, enough to keep Das Boot from sinking out of our the top five in our ranking — barely. 1981
LEARN MORE, BUY & WATCH ON AMAZON | WATCH VIA VUDU / NETFLIX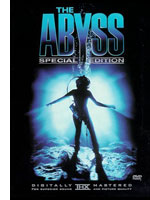 # 4 The Abyss
Can you make a thrilling submarine movie without the specter of war as part of the plot? The Abyss proves you can. A crew including Ed Harris and Mary Elizabeth Mastrantonio are underwater petroleum engineers called upon to help recover a lost nuclear submarine. What they find is a mysterious race of creatures who live in the uncharted depths of the ocean and who seem to be plotting to wipe out humanity! 1989
LEARN MORE, BUY & WATCH ON AMAZON | WATCH VIA VUDU / NETFLIX

#3 U-571
A submarine movie with Matthew McConaughey and Jon Bon Jovi? That might seem like a recipe for disaster, yet somehow U-571 delivers a gripping tale of a WWII spy mission to secretly capture a German enigma decoding machine. Our band of heros begin their daring undertaking aboard a fake German submarine but soon find themselves in command of a real (and crippled) German u-boat after their plan goes awry. The plot was inspired by real mission conducted by the British. Former UK Prime Minister Tony Blair thought it an "affort to British sailors" that U-571 depicted all the heros as American. Nevertheless, this suspenseful yarn is anything but an affront to lovers of submarine movies. 2000
LEARN MORE, BUY & WATCH ON AMAZON | WATCH VIA VUDU / NETFLIX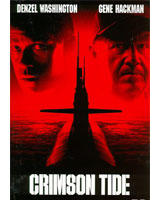 # 2 Crimson Tide
Gene Hackman and Denzel Washington serve as the Captain and Executive Officer of an American nuclear submarine. The submarine is ordered to fire their missiles to prevent a nuclear launch upon the United States. Or is it? Hackman and Washington disagree, to say the least, on the proper course of action. What follows is a riveting chess game of mutinies and counter-mutanies between the two men. Crimson Tide is superbly acted and contains nearly the perfect mix of dialogue and action. 1995
LEARN MORE, BUY & WATCH ON AMAZON | WATCH VIA VUDU / NETFLIX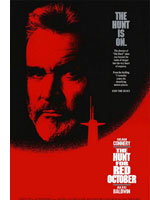 # 1 The Hunt For Red October
The Soviet Union built a new type of submarine that could alter the entire balance of the Cold War and its captain, Sean Connery, decides to defect to America with it. The Soviet navy tries to sink the sub before it falls into enemy hands while CIA operatives Alec Baldwin and James Earl Jones try to figure out what heck is going on. That's the gist behind this superbly acted thriller based on a Tom Clancy novel of the same name; in addition to getting our vote for the best sub movie ever made The Hunt For Red October is also among the best book-to-movie adaptations we've seen. 1990
LEARN MORE, BUY & WATCH ON AMAZON | WATCH VIA VUDU / NETFLIX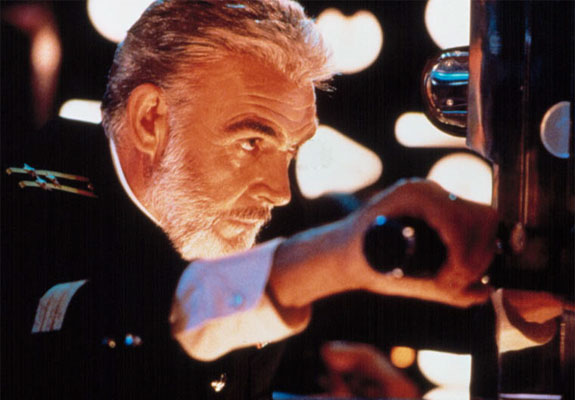 JOIN US ON TWITTER / FACEBOOK / PINTREST / GOOGLE+ / LINKEDIN / TUMBLR

Two Addition Notes:
Submarine movie budgets
Surprisingly, none of the movies on this list had production budgets that topped US$100 million. The most expensive of them, The Abyss, was filmed for $72 million, which wouldn't place it in the top 250 most expensive movies even after adjusting for inflation. We'd love to see a submarine movie made on a mega budget. To attract a big budget director like Michael Bay or Steven Spielberg, the screenplay would have to be strong—like Crimson Tide or The Hunt for Red October or (some others would argue) Das Boot. If a submarine movie could weave its way into the Michael Bay biography, it could make for an incredible show.
DVD regional coding
Traveling? Moving abroad? Ordering a DVD of your favorite submarine movie from an international source? Before you make your purchase be aware that your DVD player and laptop computer is probably region locked. That is, they will only play DVDs from one of six regions in the world. If your laptop or DVD player is, for example, coded to DVD Region 4 — which spans across most of Oceania, South America, Mexico and the Caribbean — and you want to order a DVD online consider heading to Australia-based DVDLand, which has thousands of movies available for region 4 DVD players. Alternatively, you could purchase a special region-free DVD player.
updated: 4 August 2014


Related posts on Spot Cool Stuff:
Buy Your Own Personal Submarine
The Best Value HD TV Sets
Flying House From the Movie UP Built In Real Life
Travel To LOST Hawaii Filming Locations
JOIN US ON TWITTER / FACEBOOK / PINTREST / GOOGLE+ / LINKEDIN / TUMBLR

No post on SCS has produced as many profanity-laden comments as this one. We'd love to hear other people's lists. Feel free to disagree with ours in the process . . . but given all the real stuff to argue about in the world, please practice some civility around such a benign topic as this: