Ardent LEGO fans never need much of an excuse to create with their favorite building blocks. So the much-hyped royal wedding between Britain's Prince William and Kate Middleton provided more than enough excuse for an enterprising group of English enthusiasts to construct a scene from the wedding in Westminster Abbey out of LEGOs.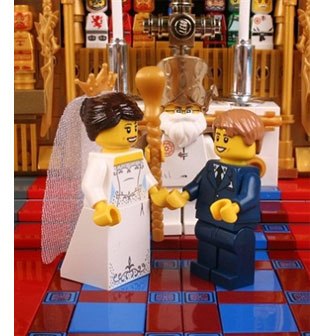 The 2.5 meter (8.2 feet) high LEGO Westminster towers over 400 LEGO figurines, including, of course, a LEGO William and a LEGO Kate. The replica of the abbey features nearly 1,000 arches and every window that the real life version does. Altogether it took 4 people over 8 weeks and 180,000 LEGO pieces to construct. Check out the video, below.
If you'd like to see the LEGO Westminster in person, it is on display at the Museum of Science and Industry (MOSI) in Manchester, England. And if you ever decide to have a LEGO wedding yourself, then it becomes almost mandatory that you tie the knot by exchanging LEGO wedding rings.

published: 27 April 2011 | photos via AFP



LEGO STORE | BUY LEGO ARCHITECT ON AMAZON | JOIN US ON TWITTER / FACEBOOK
Related posts:
12 Cool LEGO-Themed Products
A Review of the LEGO Architecture Series
Imagination Toys: Rory's Story Cubes
The World's Best Toy Stores